KARACHI: National Institute of Maritimes Affairs (NIMA), Bahria University, Islamabad and Manzil Pakistan (Karachi based Research Think Tank), have signed memorandum of understanding (MoU) to collaborate and work together for research and review of policy aspects focused to boost Pakistan's maritime industry and its allied services in Pakistan followed by its vibrant advocacy, says a Press release.
Both the think tank organizations have agreed to review Pakistan's existing Maritime Policy including the impacts of international conventions on our maritime legislation/policy structure with the focus on to bring overall improvement in shipping and freight services, port infrastructure, services and maritime environment to increase industries' share in Pakistan's economy.
A Memorandum of Understanding on the above aspects have been inked by both the organization in a simple and graceful ceremony held at Islamabad recently, where Aasim A. Siddiqui, Vice Chairman Manzil Pakistan expressed his gratitude and assured a wholeheartedly and constructive contribution towards making Pakistan a prosperous country in the world community.
He said that, "Manzil Pakistan is a national non-profit think tank dedicated to developing and advocating public policy that contributes for the development of Pakistan".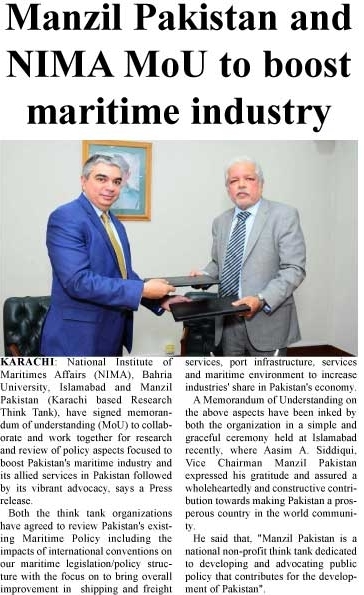 Epaper System Developed By Danish Abbas