KP Impact Challenge provides opportunity to 350 selected youth
PESHAWAR: The Government of Khyber Pakhtunkhwa in tandem with the Directorate of Youth Affairs and LUMS brings a province-wide social impact competition with 6-month duration. KP Impact Challenge (KPIC) provides an opportunity for the 350 selected youth from 27 districts to pursue their entrepreneurial ventures and enable them to become job providers rather than job seekers, says a Press release.
It intends to select 350 candidates between the ages of 18 & 30 and turn them into entrepreneurs by providing over 400 Million in seed money, incubating their business ideas at LUMS National Incubation Centre (NIC) as well as giving relevant training, and mentorship through Entrepreneurship Development Advisory Services (EDAS).
The program is designed to promote youth entrepreneurship, employment and innovation. It aims to harness the skills, passion and commitment of largely rural youth to involve them in the economic mainstream. It presents an alternative of entrepreneurial income, to create jobs for their community while embracing new industries, eventually transforming the conventional business pathways to innovative entrepreneurial successes.
Residents of Khyber Pakhtunkhwa can apply for the program by visiting www.jawaanmarkaaz.gkp.pk
For more information on the application process, please visit https://www.Lce.lums.edu.pk/kpic
The application process for this initiative, "KP Impact Challenge" has begun; last date of application is 22nd January 2018.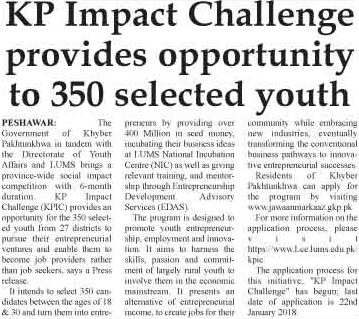 Epaper System Developed By Danish Abbas